MIDO International Eyewear Show, Fiera Milano, Milan, Italy
For their space at the MIDO Show in Milan, VideoSonic created an interactive multimedia display that featured Prada's new line of Eyewear. Prada wanted to do something entirely different from what the typical display booths look like at this show. Their desire was for visitors to "cross a threshold" and "to make a commitment" by entering the booth. This was accomplished by building the booth on a three-foot high platform, measuring 50 feet wide and 30 feet deep. Visitors had to walk up a staircase to enter the booth.
The booth signage did not feature any product or brand identity whatsoever. Instead, product and service commitments were displayed as video clips projected onto 12 rear projection screens embedded in the floor of the platform. The screens were skinned, 1-inch-thick plate glass, allowing them to be walked on.
The video sources were Alcorn McBride Digital Video Machines. Each contained an attract loop and two main programs, one in English with Italian subtitles, and one in Italian with English subtitles. Motion detectors located below the floor surface triggered the video.
The installation was performed by Videosonic, a design and installation firm located in New York and headed by Glenn Polly.
"Products where displayed as video clips projected onto 12 rear projection screens embedded in the floor"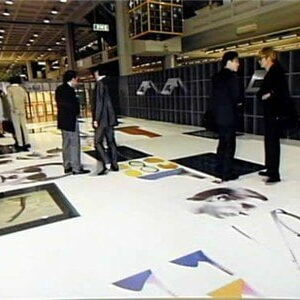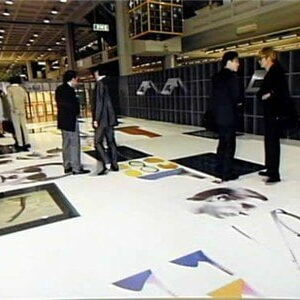 Client Name
Client Name: Prada
Location: Milan, Italy
---
Contractors
Installer: Videosonic
---
Equipment
Video: DVM