Description
Intelligent Paging Station
We believe that paging solutions should be a breeze to install and intuitive to operate.  That's why we designed V-Page to leverage the flexibility of industry-standard DSP platforms like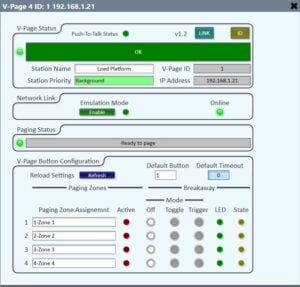 Q-SYS and provide a simple button-based UI that just makes sense.
Each V-Page station includes user-configurable illuminated buttons, microphone input, and level control. A single Ethernet cable provides Dante network audio, power (PoE), and control between each V-Page station and the equipment room where the DSP is located.
The VP16 is a circuit board with a DIN rail mounting bracket.  This model comes complete with screw terminals to allow for the creation of custom-made paging panels.  Up to 16 buttons and 16 indicator LEDs can be wired to this product to offer up to 16 zones of paging control.
V-Page intelligent paging station circuit board /w IOBB (for custom panels)
16 Contact-Closure Inputs
Microphone Gain
LED Brightness
DHCP/AMI Link
Firmware Update/Factory Defaults
Setup Mode
PTT with Zone
Mute Enable
Phantom Power
Q-SYS Core 500i (/w CDN64 Dante I/O Card)
Q-SYS Core 1100 (/w CDN64 Dante I/O Card)
Q-SYS Core 3100 (/w CDN64 Dante I/O Card)
Phoenix Screw Terminal Block 1844249
Balanced, Dynamic or Condenser
5-37VDC @ 1A Max
Phoenix Screw Terminal Block 1844210
9″W x 2.75″H x 2″D (22.9cm x 7cm x 5.1cm)
0° to 38°C (32° to 100°F)
Phoenix Screw Terminal Block 1844249
Mechanical drawings of VP16 paging station
Mechanical drawings of IOBB breakout box that is used with the VP16
| Product | Description | Download |
| --- | --- | --- |
| V-Page + V-Com Utilites | Configuration and Test Utility for V-Page and V-Com units | |
If you're using an older version of Q-Sys, be sure to download a release that is compatible with that platform:
Q-Sys v8 – v2.12+
Q-Sys v7 – v2.00-v2.09
Q-Sys v6 – v1.XX
| Product | Description | Download |
| --- | --- | --- |
| V-Page | Firmware and Plugin for V-Page stations | |
Electro Voice US600EL Microphone /w 5-pin XLR Connector
I/O Breakout Box. Includes 6ft DB37 Cable and 37-contact terminal block