Description
Intelligent Paging Station
We believe that paging solutions should be a breeze to install and intuitive to operate.  That's why we designed V-Page to leverage the flexibility of industry-standard DSP platforms like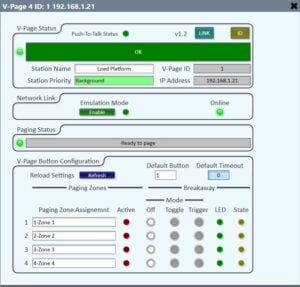 Q-SYS and provide a simple button-based UI that just makes sense.
Each V-Page station includes user-configurable illuminated buttons, microphone input, and level control. A single Ethernet cable provides Dante network audio, power (PoE), and control between each V-Page station and the equipment room where the DSP is located.
The VP16 is a circuit board with a DIN rail mounting bracket.  This model comes complete with screw terminals to allow for the creation of custom-made paging panels.  Up to 16 buttons and 16 indicator LEDs can be wired to this product to offer up to 16 zones of paging control.
V-Page intelligent paging station circuit board /w IOBB (for custom panels)
16 Contact-Closure Inputs
Microphone Gain
LED Brightness
DHCP/AMI Link
Firmware Update/Factory Defaults
Setup Mode
PTT with Zone
Mute Enable
Phantom Power
Q-SYS Core 500i (/w CDN64 Dante I/O Card)
Q-SYS Core 1100 (/w CDN64 Dante I/O Card)
Q-SYS Core 3100 (/w CDN64 Dante I/O Card)
Phoenix Screw Terminal Block 1844249
Balanced, Dynamic or Condenser
5-37VDC @ 1A Max
Phoenix Screw Terminal Block 1844210
9″W x 2.75″H x 2″D (22.9cm x 7cm x 5.1cm)
0° to 38°C (32° to 100°F)
Phoenix Screw Terminal Block 1844249
Mechanical drawings of VP16 paging station
Mechanical drawings of IOBB breakout box that is used with the VP16
QSC Q-SYS Plugin

Configure and control V-Page from Q-SYS Designer V5, V6, or V7
AMI Terminal
Control and configure Alcorn McBride products over serial, USB, or Ethernet.
These tools help you access the advanced features of your product. Visit our Software page for more selections.
For QSYS, Plugin, and VPage Firmware Compatibility, check out the VPage Firmware Compatibility Chart
Alcorn McBride provides the latest firmware for your product at no charge. To learn how to check your firmware version and upgrade it, visit our Firmware page.
Electro Voice US600EL Microphone /w 5-pin XLR Connector
I/O Breakout Box. Includes 6ft DB37 Cable and 37-contact terminal block