Starline Tours offers Los Angeles visitors a new way to be star-struck.  The Movie Locations Tour in partnership with TCM visits more than 50 spots around town while passengers view related movie clips on a 65-inch HDTV.  The tour is presented in conjunction with cable network TCM.
Movie Locations Tour is expertly guided by film aficionados who delight in teasing passengers with little-known facts and anecdotes and giving TCM-infused context to the movie clips being shown.
Two custom Movie Location Tour buses are outfitted with video playback equipment from Alcorn McBride. This enables tour guides to link locations with their on-screen counterparts. Panoramic windows and skylights afford great views of movie locations that include famous streets, the iconic Union Station and Bradbury Building, and notable parks. Stadium seating ensures every passenger has a clear view of the 65-inch HDTV screen at the front of the bus. Guides offer behind-the-scenes insight and expert commentary on the movie clips and locations. Additional video segments feature popular TCM host Ben Mankiewicz.
"The buses are a real marvel – they're quite unique," says Starline IT Director Kian Farhadi.  "There are windows everywhere and as we go by a location we play scenes from the movies that pertain to it.  Passengers are completely immersed in what's going on."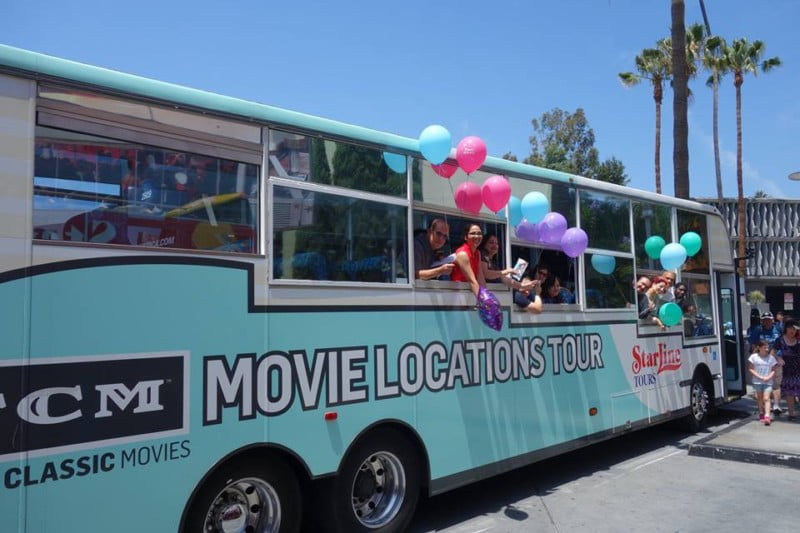 Each bus features an Alcorn McBride DVM8500 Digital Video Machine HD. The HD video player is paired with an Alcorn McBride VCore controller, which works seamlessly with the Alcorn McBride ShowTouch control panel. The system drives the big screen for the passengers plus a 7-inch screen for the tour guide.
"We had a very particular set of requirements and Alcorn McBride was able to meet them," says Kian Farhadi. "The guide has to have complete control over the media during the tour. He needs to be able to adapt the itinerary as the tour goes along; there's an array of buttons on the touchscreen to select locations from. The system also has to be powered through an inverter. Alcorn McBride was the only company that could deliver on all these points."
Kamrouz Farhadi, Chairman of Starline Tours of Hollywood, notes that the company has been using Alcorn McBride products for half-a-dozen years. "We first used the AM4 Digital Audio Machine for the sound in our tours," he says. "That has worked very well, so we had Alcorn McBride in mind when we began to plan the Movie Locations tour. We did look at other systems but felt that Alcorn McBride's DVM-8500 was the best fit and would do a good job."
Kian Farhadi reports that the Alcorn McBride systems are "working very, very well" on the Movie Locations Tours.  He gives kudos to Alcorn McBride's customer support – even if he hasn't had to make much use of it.  "It was excellent when we were in touch the first couple of days.  But since then we haven't had to call them.  The equipment just works!" he says.